ABOUT US:  
The Open Public Safety Institute is much more than a web based distant lea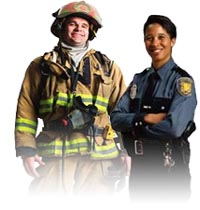 rning site. We are a commited community for public safety professionals, organizations, and educational institutions. The key element of our organization is that it expands and contracts based on the needs of our students. Looking beyond creating a web-based learning tool, we are breaking down the barriers that  distract from providing quality education. The training courses and the content are generated by the highly skilled motivated staff and instructors who are  committed to all members of public safety.
We are a multidisciplinary organization whose sole purpose is to deliver a broad range of comprehensive and innovative course work in all aspects of  public safety, Open Public Safety Institute is a highly recognized source for offering qualified instructors in all aspects of fire and emergency services. Our faculty and staff provide innovative approaches to meet the complex challenges presented by training public safety personne both in the setting of distant learning and with a hands on approach . Our courses and training programs exceed nationally recognized standards. Our staff is comprised of active and retired  Chief Officers, Company Officers, Hazardous Materials Experts,Advanced and Basic Life Support Providers, Law Enforcement Officers, Homeland Security Leaders, and Emergency Management and Industrial Safety Specialists who possess extensive practical knowledge to provide the student the most cutting edge training and education,  Open Public Safety Institute also prides itself on being  on the forefront of modern technology, our courses are available anytime and anywhere, students can utilize their mobile devices to fully engage in their coursework, as well as their computer. We are also available to assist an Incident Commander whetther it be Fire, Police or Emergency Management, with challenging operational tasks for numerous types of incidents, all with the click of a button, the IC can be in contact with one of our represenatives, who can provide numerous resources to assist in mitigation.  
STRATEGIES FOR SUCCESS:
Focus, reform, and investment in students.
Establish learning as a career long concrete reality.
Remove obstacles for the student and promote active learning.
Promote a cadre of instructors who are qualified academically and certified professionally to provide the highest in quality education
GOALS OF THE ORGANIZATION
To provide educational, and lifelong learning opportunities for public safety personnel.
To offer educational advancement opportunities for all  public safety personnel in Fire, EMS, Law Enforcement, Homeland Security, and Emergency Management
To ensure that all training is quality in nature, cost effective and meets all current public safety training standards.
Utilize only nationally and internationally recognized curriculums .

                       

 
                              "PROVIDING EXCELLENCE, THROUGH TRAINING "